A Scrolltext in Hebrew
A request came in: "I need assistance on a scroll text, an AoA for a 16th C Italian Jewish persona, ideally in Hebrew. Oh, and one other thing, she uses female pronouns in person but would prefer any awards to use neuter pronouns." My initial answer was, "That's impossible, every noun and adjective and pronoun in Hebrew has a gender and the only options are male and female," but I wasn't going to let a little thing like grammar stand in my way, so I came up with a plan. 
I know very little about 16th century Italian secular works, but composing poems in a biblical style remained popular throughout the Middle Ages into the early modern period.  There's a structure in biblical poetry called a bicolon in which the two adjacent lines say the same thing, the second line restates the first in different words.  One example is Ps. 114:1-4[1]
When Israel went forth from Egypt,
the house of Jacob from a people of strange tongue,
Judah became His kingdom, 
Israel, His dominion.
The sea saw them and fled,
The Jordan ran backward,
mountains skipped like rams,
The hills like young lambs.
Here I have split each verse in half to illustrate the parallelism of the images: Israel:Jacob, Judah:Israel, Sea:Jordan, Kingdom:Dominion, etc
My idea was to use this structure for the initial part of the scroll, with the first line of each bicolon using masculine grammar and the second line feminine.  The first couplet drew on common biblical imagery, the gazelle appears as a female motif (Song of Songs, 4:5) and the tower as a symbol of strength and protection (Psalms 18:3). 
SS 4:5 - Your breasts are like two fawns, Twins of a gazelle, Browsing among the lilies.
Ps. 18:3 - The LORD is my rock, and my fortress, and my deliverer; My G-d, my rock, in Him I take refuge; my shield, and my horn of salvation, my high tower.
The remaining couplets were composed by Master Donovan Shinnock, a close friend of the recipient who was able to expound on her activities.  Once composed the text was translated into biblical Hebrew by Dr. Ely Levine.  The final part of the text, where Ozurr and Fortune do the awarding of arms, we decided to write in prose and not translate into Hebrew.  This is SCA-specific wording, and would not end up as comprehensible Hebrew, as it would be littered with transliterated terms.
What follows is the text in 3 columns, English as written, Hebrew translation, and literal retranslation into English with grammatical forms noted.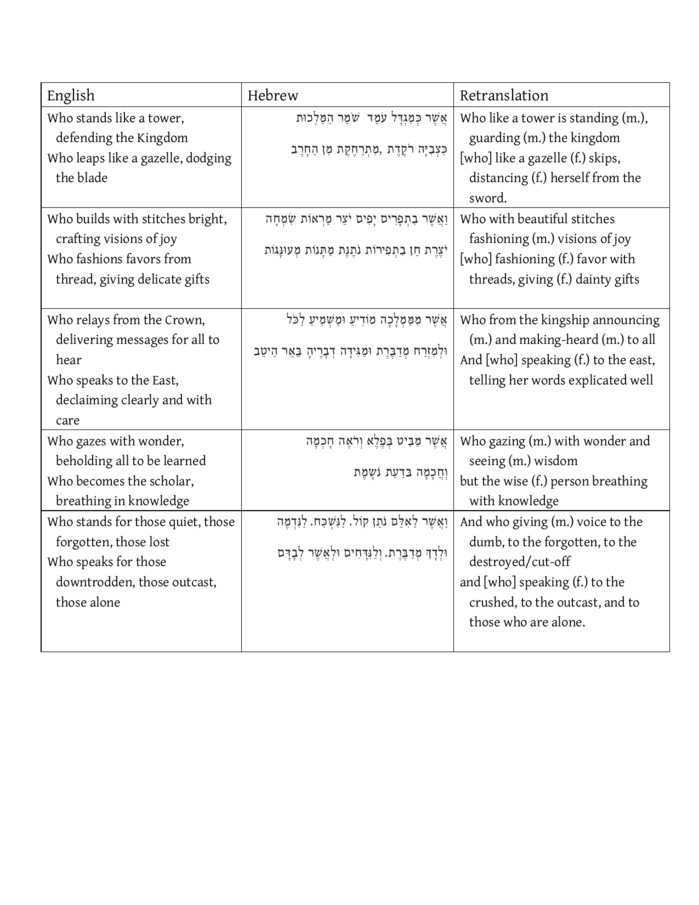 ---
[1] All translations of the Bible are based on the JPS translation available online via Sefaria: https://www.sefaria.org/