Typ 295, from the Houghton Library at Harvard University, is a late 13th Century single-volume bible.  Specs are: 368 leaves of vellum, very thin, about 18cm high. It contains the Vulgate text with some additional apparatus, in this case Interpretationes Hebraicorum nominum and a table of readings.  These are often referred to as Parisian bibles, due to the large number of them which were created in the Paris stationary trade, but the catalogue identifies this on as Italian, due to the roundness of the gothic hand. There's plenty to say else about the manuscript, but I'm focusing on the rulings on the page.
The rulings consist of three parts: Titles, Text and Decorations.  Moving from top to bottom, the first pair of lines locate the title of the page, in this case "Sys" (the facing page has "Gen").  The next pair of horizontal lines mark out the first line of text in the block, and the rest of the block has ruling only within it, not extending to the edges of the page.  Finally there's a horizontal pair near the bottom of the page, which does not appear on all the pages of this MS.  I'm guessing that it has to do with the decorations, but that's speculation. 
For the vertical rulings, moving from the inside out, there's a pair of vertical lines to define the inside margin of the text block which also serve to structure the red/blue penwork decoration.  Next there's a double-column ruling, three lines, to spit the columns of text.  There's a vertical pair to end the text block and one final one to mark out the title margin, in this case for XXXVI.  This final block also contains penwork on some pages. 
All of these rulings, three horizontal pairs and four vertical sets, extend nearly to the edges of the membrane, far beyond where they are used.  In contrast the text block itself is ruled internally only, crossing the center gutter but not extending outside the margins after the first line.  The text floats between the rules lines, neither sitting on the baseline nor hanging from above.  Some descenders cross the baseline, but only a small amount (see closeup of Genesis 35, below).  The scribe has fit an enormous amount of text on the page, from Genesis 34:19 through part of 35:23, or about 1000 words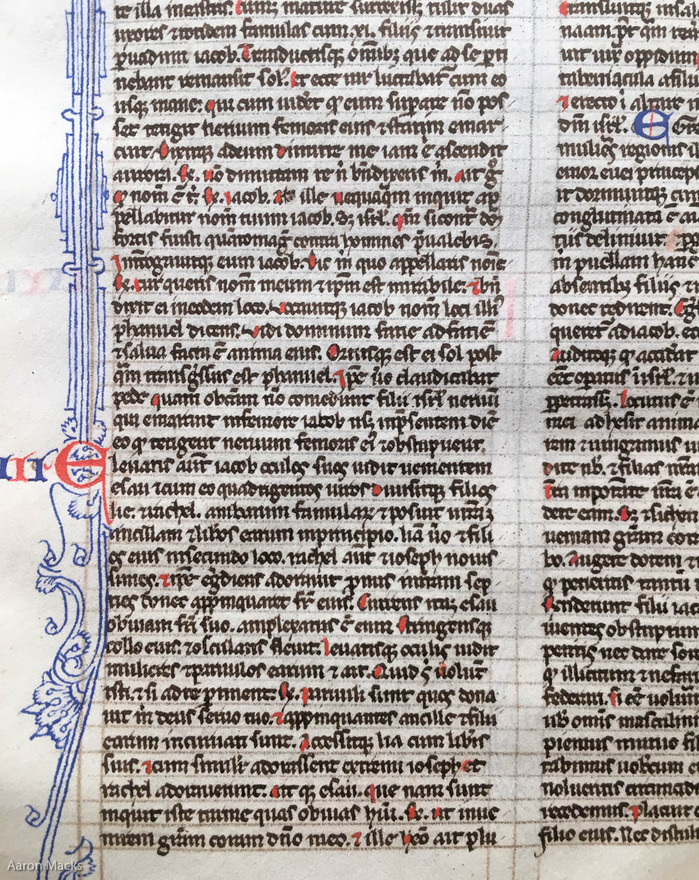 The last section of the manuscript, the Interpretationes Hebraicorum nominum, attributed to Jerome, but probably written later.  For our purposes it is interesting because the scribe has shifted to three columns of text.  These are demarcated only by 4 vertical rulings, the one to the left of each column also serving to structure the constant list of capital letters (see 'B' below)
All of the rulings appear to be in ink